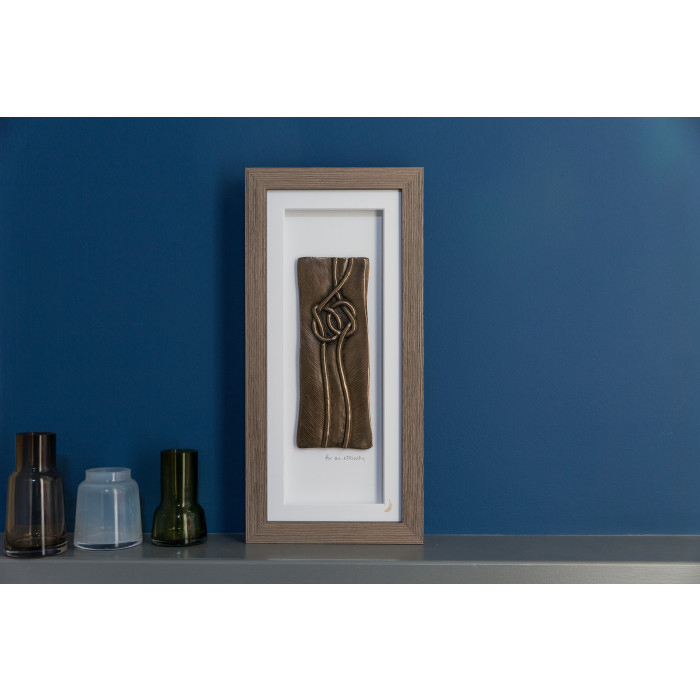 for an eternity
for an eternity
Shadow Boxed Framed: 15.5" x 7.5"
Eternity piece: 8" x 3"
Bronze over resin. Ready to hang.
Explanation on Back.
Cast by hand in Kinsale
Made in Ireland by The Wild Goose Studio, Kinsale, Co. Cork

In Stock! Ships Immediately.
Ships Free in the USA!
SKU: WGSF852BZG
Explanation on back reads:
The Wild Goose Studio
For an Eternity
 With no beginning and no end, these love knots are forever intertwined. Each strand follows a shared path, but remains individual and distinct, complementing each other on their never-ending journey.
Love is our true destiny. We do not find the meaning of life by ourselves alone – we find it with another. (Thomas Merton)
Created by artist Nadia Corridan and carved by Adam Grabski.
 
Q. How are the Studio's designs made?
A. All Wild Goose's work is handmade by skilled craft-workers using a cold cast method. Each piece has a shell of pure cast iron or bronze backed by a resin and ceramic core. Any variations in finish are part of its appeal.